Since 17 July 2021, new procedures for coming to France apply to international students and researchers. They are different depending on their country of origin and their vaccination status.
Read more about it here.
Health pass:
The French government requires the presentation of a health pass in many places. For more information, government website.
To ensure your safety and the safety of others, please follow the instructions below.
We ask you to use the hydroalcoholic gel provided at the entrance.
COURSES: the intensive courses are in person at the AF Bordeaux. Wearing a mask is compulsory during the whole course. Please wear it properly.
EXAMS:the exams scheduled at the AF Bordeaux are maintained. Only candidates will be allowed to enter the school. Wearing a mask is compulsory throughout the exams. Please wear it properly.
Thank you for your understanding.
If you experience symptoms (fever, cough, breathing difficulties), it is recommended to:
Stay home, avoid any contacts and go out only if it absolutely necessary.
Call your doctor.
Dial 15 to speak with emergencies if you experience breathing difficulties.
Actions to protect yourself and others in your daily life :
Wash your hands with soap and water regularly or use a hydro-alcoholic solution.
Avoid touching your eyes, nose, and mouth.
Frequently clean and disinfect surfaces that may contain germs.
Cover any coughs and/or sneezes with a tissue then throw the tissue directly in the trash.
Wear a face mask when it is not possible to respect the physical distancing of 1 metre.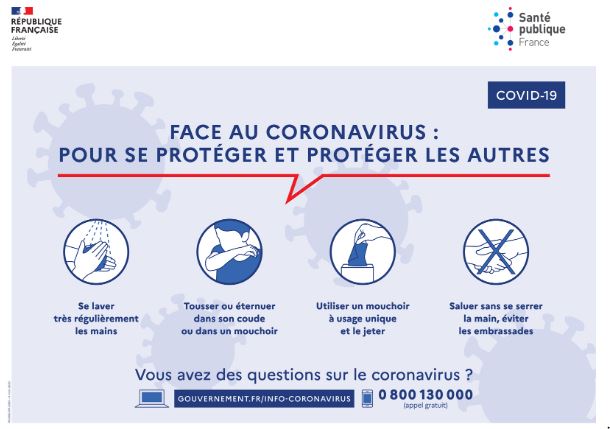 Updated on October 1st, 2021